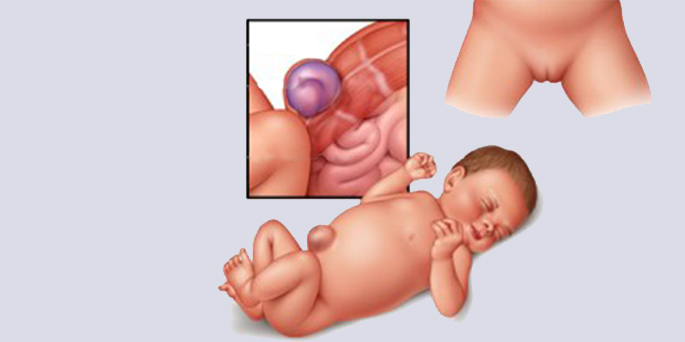 Umbilical Hernia
The hernia is the condition where the intestine inside the abdomen comes out of the abdominal wall. The hernia is called according to the location of it. The hernia in the umbilical region is called umbilical hernia, the hernia in the inguinal region is called inguinal hernia. Where the hernia is located, a soft mass is manifested itself in the form of a relief.
The umbilical cord is the bond between the mother and the child when the child is in the mother's womb. The veins inside the umbilical cord pass through the belly ring to meet the needs of the child's growth. With the birth event, these veins shrink. The swelling formed in the belly by entering and exiting the intestines or adipose tissue in the abdomen from the cavity formed in the belly ring which is still closing is called umbilical hernia.
The umbilical ring closes slowly, so most of the umbilical hernia does not require any surgical treatment. However, if the child is over four years of age or the width of the navel ring is larger than 2 cm, then the belly ring is difficult to close spontaneously and surgical treatment is recommended.
It is very rare that the intestines are squeezed in the ring through which they pass in umbilical cord as in inguinal hernia. However, it should be kept in mind that the swelling in the abdomen may be painful, vomiting and abdominal swelling may require urgent surgical intervention.
A 1.5-2 cm incision is made instead of the umbilical fold and the umbilicus is removed. The belly button that remains open is closed by sewing. In this way, the intestine is prevented from passing through this opening to form a hernia. The skin is then closed with absorbable sutures so removal of suture is not required.