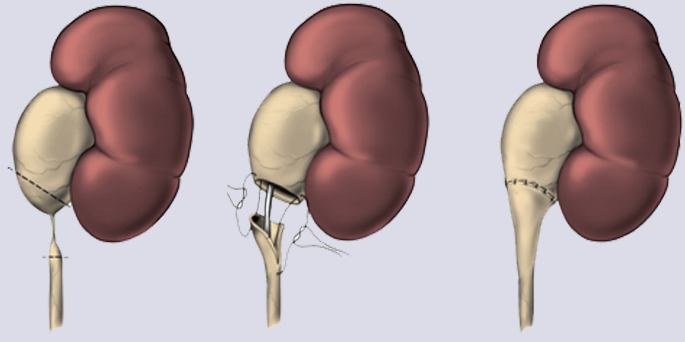 Ureteropelvic Junction Obstruction
Urine produced in the kidneys is collected in the pool called kidney pelvis. It is transported into the urinary bladder with a tubular urethra called ureter. The location of the kidney pelvis and the ureter is called the ureteropelvic junction. If there is stenosis in this junction, the condition called ureteropelvic junction obstruction. Ureteropelvic junction obstruction is seen in one in 1500 children.
In ureteropelvic junction obstruction, disruption of the flow of urine from the kidneys to the urethra occurs. Urine accumulates in the renal pelvis and dilation occurs in the kidney. This expansion is called hydro nephrosis. If it is not treated on time, it may cause loss of kidney function over time.
What Are The Causes Of Ureteropelvic Junction Obstruction?
The cause of ureteropelvic junction obstruction is unknown. It is thought that stenosis occurs during the prenatal period in the formation of the kidney. Occasionally, the stenosis may be caused by the passage of one of the veins of the kidney over the junction point, as it narrows the junction. In older children and adolescents, stenosis may be due to an infection in the ureteropelvic junction area, previous treatment or a sacchar tissue due to stone development.
What Are The Symptoms Of Ureteropelvic Junction Obstruction?
Ureteropelvic junction obstruction can be noticed early in pregnancy follow-up. The most common symptoms in these children include chest pain, bloody urine, abdominal swelling or mass, kidney infection, developmental disorders, urinary tract infection and vomiting.
How is Ureteropelvic Junction Obstruction Diagnosed?
Ureteropelvic junction obstruction can be detected by ultrasonography performed during pregnancy. Renal ultrasonography and renal scintigraphy are used to diagnose patients who come after the birth. If necessary, voiding film (voiding cystourethrography), computed tomography and intravenous pyelography may be performed.
How Is Ureteropelvic Junction Obstruction Treated?
Ureteropelvic junction obstruction with prenatal ultrasonography is easily recognized during pregnancy. In some children this situation is noticed in the period after birth.
In many children, the stenosis is mild, the patient is monitored and surgical treatment can be delayed until late. In cases where the obstruction is very severe and damages the kidney, surgery may be required in the early period of life without postponing.
In ureteropelvic junction obstruction surgery, the narrow ureteropelvic junction section is removed and connected into the pelvic tissue with the intact portion of the ureter. This process is called pyeloplasty. Pyeloplasty can be performed by open or closed methods (laparoscopic or robotic).